Proclean for Caravans
Our fully bio-degradable range specifically designed and tested to keep your caravan or motorhome in pristine condition.
All our products have been tested and are safe for use on all surfaces.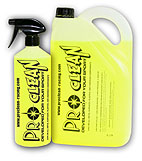 Pro-Clean
Pro Clean is a unique blend of fully biodegradable chemicals designed to clean the exterior of your Motorhome. The intelligent chemical formulation releases the correct level of active cleaning agents to ensure perfect results every time whether removing stubborn bugs and flies or simply performing a routine cleaning.
Pro Clean is safe on all surfaces making it the cleanest and greenest.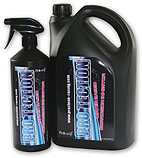 Pro-tection
Pro-tection is completely unique & revolutionary water based corrosion inhibitor, which leaves a microfilm coating designed to protect against road salt, rust and general corrosion attacks from the elements.
Pro-tection can be sprayed safely over any surface. Once dry it leaves a molecular film which protects the treated surface. Pro-tection has no ill effect on any surface and can be liberally sprayed on to any surface or components which require protection from the elements, whether during regular use or winter storage.
Aqua Repel
Aqua Repel is a water based fluid that when applied to porous surfaces creates a molecular seal which locks molecules together as the water evaporates leaving a long lasting waterproof seal on canvas covers, awnings and even rejuvenates water resistant storm clothing.
Simply spray a fine mist over the surface making sure that seams are adequately coated, allow the material to dry before exposure to the elements. The treated surface will then be waterproof and breathable ensuring the long life of the treated fabric.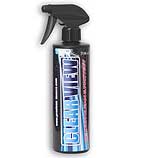 Clear View
Clear view is a superior quality glass cleaner suitable for glass or acrylic surfaces. The fast evaporating non residue formula removes road film, grease and general dirt deposits leaving a crystal clear finish.
Simply spray on to glass or acrylic surfaces and wipe off with a clean cloth or paper towel.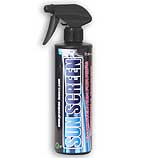 Sun Screen
Sun Screen is a chemical sensation designed specifically to protect RIB Tubes, boat covers and awnings from the harmful UV rays which cause fading and premature ageing.
Simply apply this fluid to RIB tubes with a clean soft cloth or simply spray onto covers and awnings to prolong the life of the fabric and to keep colours looking clean and vibrant.